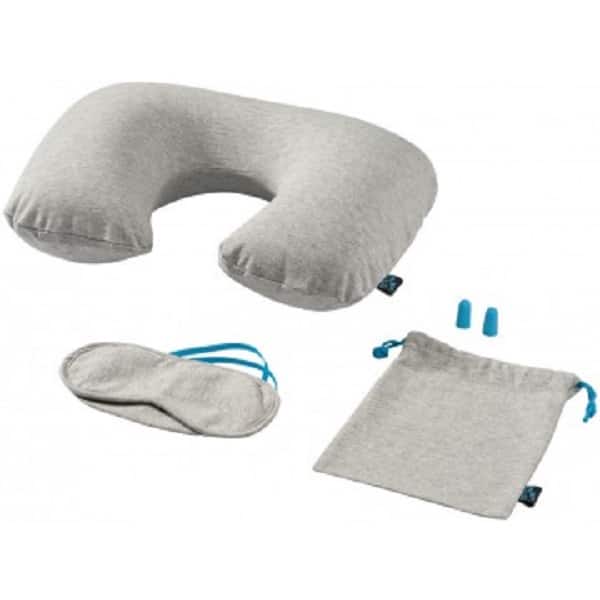 For the experienced business traveller, jet-setting between different countries to schmooze with clients can be quite a hassle when you have to live out of a suitcase. Mobility is a key factor especially when you have endless flights to catch and bookings to keep tabs on. If you need some corporate gift inspiration for a business traveller, here is a comprehensive rundown of items that might be useful to the seasoned globetrotter:
When you are travelling long-haul, nothing beats a comfy and supportive cushion. Gift the business traveller with the luxury of some essential shut-eye on the car, plane or train under any noise or light conditions with a travel pillow and eye mask set. Apart from feeling fresher when you get to your destination sans the stiff necks and searing headaches, the travel pillow can then be easily deflated into a small pouch that fits right into a carry-on.
Voltage and outlets work differently in different parts of the world, so there's a high chance that business travellers require a travel adapter that works with different types of charging outlets. Call it a basic necessity if you must, since carrying different kinds of chargers and wires for every different country you travel to sounds troublesome and quite impractical.
If your gift recipient is a frequent traveller, they will probably appreciate a customised luggage tag—one that is able to keep their suitcase easily identifiable so they do not lose sight of it (or grab someone else's unintentionally!). Have their names or initials inscribed to keep it functional and stylish.
Picture this: you've checked-in to your hotel room after a long flight and you unpack your luggage to freshen up, only to find your facial product spilled all over the inside of your luggage and on your clothes. This is never pleasant, especially when you are already jetlagged and in dire need of rest. A travel utility kit with mesh pouches, zippered pockets, and a waterproof interior is the perfect accessory to contain all your personal hygiene products in one compartment and avoid a sticky situation.
Anyone who travels regularly knows how frustrating it can be when your devices are running low on juice and you cannot locate a charging outlet anywhere nearby. A multi-cable portable charger or powerbank will eliminate all the hassle of scouring for an outlet so your mobile phone or tablet stays powered up on the go. From comfort to convenience, there's surely something on this list that you can get for a busy business traveller before they head off to another trip. If you're having trouble picking out the right gift, Edmaro is a leading corporate gift supplier of the best selection of travel gifts and accessories in Singapore. Save some time and enquire now!