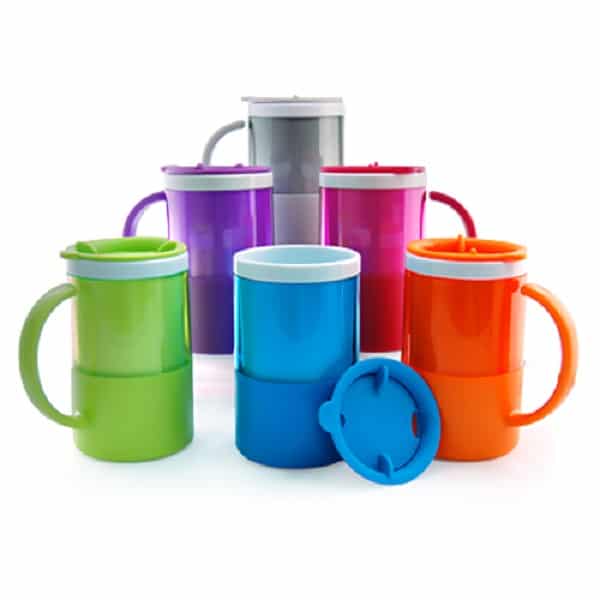 Who said coffee mugs make boring door gifts? Mugs can be repurposed in a whole bunch of exciting ways. Here are five tricks that prove coffee mugs are just not your average door gifts:
Candleholders
Turn your decorative mugs into candle holders to prevent melted wax from spilling onto your precious furniture. Additionally, you could pour melted wax and fragrance oil into your mug to make your very own homemade scented candle that can be made as a gift.
Mug Cakes
In the mood for a delicious cake? Throw in your favorite ingredients into a mug (we recommend keeping it simple with flour, sugar, cocoa powder, eggs, milk, and a dash of vanilla), pop it into the microwave, and your tasty treat will be ready in a matter of minutes—no oven required! This is perfect if you're in the mood to bake without having to clean up the mess after.  
DIY speaker
Did you know a mug can help amplify the volume of your phone, more than a plastic or styrofoam cup can? Just insert your phone into the mug with the speakers facing upwards to give your sound more depth and volume. This is known to be the easiest DIY speaker hack for a volume boost to turn things up a little and get feet moving at your next party or get-together.
Mini herb garden
Whether you have a green thumb or not, growing your own herbs can be inexpensive and fun! All you need to do is plant some herb plants/seeds of your own choosing (e.g. parsley, rosemary, basil) and some seed starting soil into a mug. Place the mug somewhere with sufficient sunlight like the kitchen or windowsill, and water daily. Before you know it, you'll have your own supply of fresh herbs ready for the picking.
Knife sharpeners
Yes, that's right—the bottom of most coffee mugs make the perfect surface to give a little bit back to your dull knives. Simply run the knife a few times in one direction across the bottom of the mug (from the butt up to the tip) at a 45-degree angle for quick sharpening. Say goodbye to unevenly cut fruits and vegetables!
Get Organised
Mugs make simple and practical alternatives to fancy organizational items that can put a hole in your pocket. Keep your workspace neat and tidy by storing your stationery and office supplies in a coffee mug. After all, a tidy mind begins with a tidy desk.
Edmaro is a supplier of mugs and other drinkware that make perfect door gifts in Singapore. Visit our website to see what we have to offer.