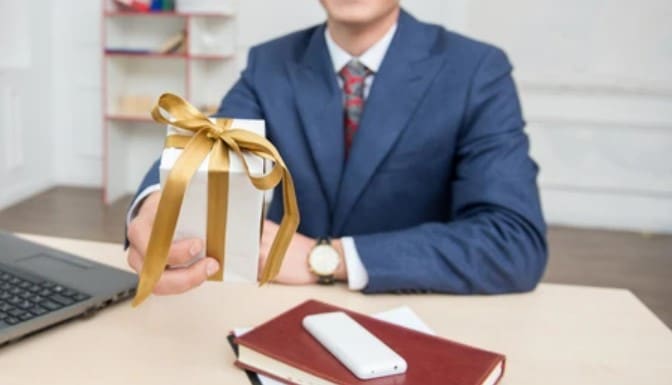 The strategy of Corporate gifting to enhance and strengthen the relationship with employees and clients. The employee feels appreciated and motivated. And Take more interest in activities of the company. Similarly, the clients feel valued and make your brand their priority. Corporate gifting is becoming more familiar with time.
If you are worried about the revenue that corporate gifting will cause, well, that's not an issue to be worried about. It is not about buying expensive gifts; it's the loyalty and care that matters. Even a simple and small gift having a card bearing the recipient's name on it is enough to make an impression.
Buying Right Corporate Gifts
Buying a gift for someone is requires a lot of thinking because you need to consider various factors. No doubt, giving gifts is a sweet gesture, but your inappropriate selection of gifts may send a wrong signal. We want to save you from false selection, so here we will discuss some tips that will definitely help you buy the best corporate gift in Singapore. And you won't have to spend so much time thinking before gifting anyone.
Tips & Guidelines for Corporate Gifts
Please Pay Attention to One's Interests
Before gifting anything, consider taking a look at the personality and interest of that person. You might want to gift something of their interest so they will never forget you in kind words. They would love to own it if someone is into watches, you could give them watches.
Go For Consumable Gifts.
Go for gifts that would be consumed rather than giving things that'd go unnoticed and unbothered. For instance, if you don't have much idea about the likes and interests of another person, go for a safer side. You can get them a coffee subscription to a place they love.
Manage Your Budget.
Keeping in mind the factor of the budget is crucial. Suppose you don't have a large budget for corporate gifting, that okay. But don't buy cheap gifts; that would be of no use for them. Instead, look for some other ways that would make them happy. You can gift them a box of macaroons or cupcakes, and who doesn't have a sweet tooth after all?
Personalized Gifts.
Personalized gifts are the best way to show your feelings of gratitude and affection. Your clients will know how dear they are to you. So why not go the extra mile to show your loyalty and sincerity to your customers and employees? For example, you can gift them a customized keychain with their name on it, a handmade piece of art, or even tickets to their favorite show. Just keep it classy.
Don't Gift Inappropriate Things.
Knowing what should be gifted is essential. As professional life demands a professional attitude, you wouldn't want to offend anyone by gifting them something too personal. Personalization in gifts is good but don't go too further. The whole idea of personalization is to make the other feel appreciated.
In the same way, avoid gifts that have a double meaning. Instead, go for something that clearly states that the purpose is to cherish this bonding.
Don't Play Favorite
Remember, don't play favorite while you are giving corporate gifts. You should follow the rule of 'All or none. In the case of an employee, you need to take care of all feelings, i.e., from top-level management to bottom level. The same is the case with clients; you wouldn't want them to feel unwelcomed from your other clients. Even if you wish to give corporate gifts to someone who is extra hardworking, someone who has earned it, do it privately. You don't want to create an environment of jealousy, so don't go about telling everyone about your idea; it might backfire on you!
Even while giving the same gifts, you could add the element of personalization to outstand. Go for a mug that bears their name on it, and they will cherish this precious gift forever.
Equality While Gifting
Note that the budget range of gifts should be the same for everyone regardless of gender. You wouldn't want to create a competition or make the other one feel low. Inequality, while gifting, will have an impact on your business in the long run. So, take care of it.
The whole idea about giving gifts is to make others feel warm and special, to show them how much you appreciate them. So, surprise your workers and clients with a gift that brings a smile to their faces. For more guidance, you can always consult corporate gifts supplier. It would be best if you had a little planning. These acts of courtesy will come back to you in a much positive way than you can expect.